History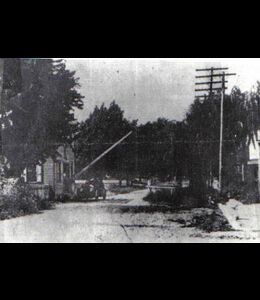 The Borough of Rockledge was formed from Abington Township in the early 1890's, as a result of in-migration from the Fox Chase area of Philadelphia. Building associations bought the few farms located along what is now Huntingdon Pike and subdivided the tracts into lots for housing. A historic map of Abington and Cheltenham townships in 1877, clearly shows the large farm tracts which were subdivided to form the Borough.
This new settlement concentration was originally called Sylvania. However, with the incorporation of the area as a borough on January 9, 1893, the name Rockledge was adopted. Thus the history of the Borough and its growth and development pattern only date back about 80 years.
By 1900, Rockledge had a total population of 512 persons. Many of the original homes in the Borough were built adjacent to the Lawnview Cemetery and Fox Chase Road on the south side of what is now Huntingdon Pike. Since the subdivider of the property was named Strock, this neighborhood became known as Strockville.
The Rockledge Volunteer Fire Company was formed in 1903, and the first firehouse was located on Sylvania Avenue below Huntingdon Pike. One of the fire company's major tests occurred before World War I when the Jarrett Avenue Knitting Mill burned down briefly threatening the entire Borough.
The original Rockledge Elementary School building was erected in 1888 as a two room school built by the Rockledge Hall and School Company. After it was destroyed by fire in 1902, a new stone building opened in September 1903. This school was much larger and was built at the same location at Robbins and Huntingdon Pike. The School closed in 1977, and the building currently serves as the Rockledge Municipal Building.
Rockledge probably acquired its name from the old stone quarry which was located on the south side of the 200 block of Huntingdon Pike, tapering back toward Lynnwood Road and Jarrett Avenue. This quarry was most active between 1916 and 1920; at one point it reached a depth of over 100 feet. By 1925, the quarry was filled in with truckloads of junk and coal ashes brought in as landfill from Philadelphia.
Secession from Montgomery County and annexation by Philadelphia gained much support from 1916 to 1923. The close local identification with Fox Chase was primarily responsible for the strength of this movement. A petition to the County Court of Quarter Sessions was initiated, but resulted in a refusal by the judges. After the Court's rejection, the movement was abandoned, primarily because the Borough residents had second thoughts about Philadelphia's higher taxes and the distant location of its high schools.
---
Rockledge Borough Council Presidents, 1893 - Present
William J. Crowe | 1893-1894
William J. Knott | 1894-1897
Harry W. Russell | 1897-1898
Charles Nahm | 1898-1900
Richard D. Sayles | 1900-1901
William P. Knott | 1901
Harry Bothwell | 1901-1903
Herman Mattson | 1903-1912
George Dill | 1912-1917
George H. Keil | 1917-1920
Isaac Wright | 1920-1922
John B.W. Manogue | 1922-1924
Samuel Seymour | 1924-1928
Harry C. Buckley | 1928-1932
William Ferguson | 1932-1934
Charles H. Prenzel | 1934-1948
William C. Ott | 1948-1958
J.M. Cegielkowski | 1958-1961
William C. Kenney | 1961-1964
Raymond T. Sims | 1964-1966
Harry Bratzler | 1966-1967
Michael Gadaleta | 1967-1968
Albert Longstreth | 1968-1969
Joseph L. Denelsbeck | 1969-1975
Frank Buonpastore | 1975-1976
Joseph Costello | 1976-1995
Joseph Denelsbeck | 1996-2000
Harold Praediger | 2000
Gene Reinhardt | 2001
Tom Briggman | 2002-2003
Kevin Maier | 2003 
Barbara Crossin | 2003
Joseph Denelsbeck | 2003-2008
James Caffrey | 2009 
Joseph Denelsbeck | 1/2010-10/2010
Jason Showmaker | 10/2010 - Present
Rockledge Borough Mayors | 1893 - Present
William J. Crowe | 1893-1894
Richard D. Sayles | 1894-1897
William Crowe | 1897-1900
Andrew J. Getz | 1900-1903
Charles Nahm | 1903-1906
William Knott | 1906-1909
Henry Scher | 1909-1912
Herman Mattson | 1912-1914
Jules A. Kerle | 1914-1930
Fred J. Knowles | 1930-1938
Albert J. Miller | 1938-1942
Lyle C. Miller | 1942-1952
Paul R. Blaetz | 1952-1962
Earl Longstreth | 1962-1968
J.M. Cegielkowski | 1968-1975
Joseph Denelsbeck Jr. | 1975-1976
Albert Longstreth | 1976-1977
Bernie Joerger | 1977-1980
Timothy Barton | 1980-1988
Jay Beaumont | 1988-1990
Dominic Notarfrancesco | 1990-1998
Mary Notarfrancesco | 1998
Patricia Goldberg | 1998-2004
Kenneth Costello | 2004-2007
Harold Praediger | 2007-Present